Stenner Multi Function Digital Peristaltic Pumps
When in the market for a high end dosing pump, most users will opt for a Stepper Motor Driven or Solenoid Driven Diaphragm pump with fully digital interface to program the pump. These pumps are fully mulit-fuction and are suited to be used in almost any application having an array of input and output options.
Traditionally, peristaltic pumps would never even be considered for these applications, as the common perception is that peristaltic pumps need too much maintenance due to the requirement of changing the squeeze tube on a regular basis. With high load applications and aggressive chemicals, this may be true. However, a peristaltic pump offers distinct advantages in certain applications over diaphragm pumps. The most well known advantage is the peristaltic pump's ability to self prime and to to be able to draw from height.
What is perhaps less well known is that with high end peristaltic pumps, they can run continuously, can pump into a reasonable amount of line pressure, and are able to be maintained very easily. For instance the Stenner S series peristaltic pumps have a tube life timer and a tube leak detector. This means that when the useful life of the tube has been reached, the display on the pump will advise you that you need to change the tube. Furthermore, if the tube had to split, the pump would detect this, stop and again, alert the user that the tube has split and needs replacement. The pump's head cover also doubles up as a tool to collapse the roller block for each tube removal and replacement.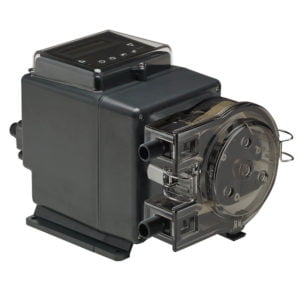 The Stenner S30 and Stenner S40 pumps can achieve dose rates across the range from as little as 8 ml/hr up to 23.66 l/hr. The lower flow models can also pump into pressures of up to 6.9 bar. That is quite impressive for a peristaltic pump, as one would naturally assume you would need a diaphragm pump to do that.
These dosing pumps have a digital keypad with OLED display, have a multitude of operating modes, multiple inputs, outputs and can rival a multi function diaphragm pump any day of the week. With a brushless motor, they can run 24/7 with reliable and consistent dosing.
They are suitable for a multitude of applications in all areas of water treatment. Further, they are suitable for food applications as they are FDA approved in USA.
Rest easy with peace of mind that Stenner is a USA manufacturer who has been around since 1957 and a leader in the peristaltic pump market.
Miss our prevoius Stenner post? Read it here > https://cwc.com.au/stenner-ultra-low-dose-rate-peristaltic-pumps/